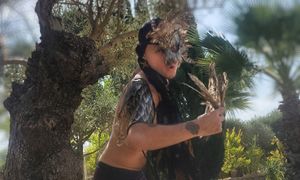 PRESS
His marriage of sensitivity and flat-out power is seamless and distinguishes him from a bevy of his peers and contemporaries. Metanoia is the latest triumph in a lifelong musical journey for the talented guitarist and will certainly not be his last. If you value high-caliber musicianship, outside-the-box composition, a willingness to risk the listener's wrath and a poetic sensibility, CelestiOwl's music is for you.
-Mark Druery,Indieshark.com  - full review
"He's reached a new peak with this work and one thing we can rest assured of with this artist is that when he says something, we should listen. Anything he writes and plays is well worth the time of serious music listeners who aspire for the form to be a little more than mere entertainment; they want it to be art.  
-Garth Thomas,   Hollywood Digest - full review
"Melody unreels from him as if is part of his breathing and the transitions from one passage to the next are fluid and seamless. He has a gift for construction and the unexpected touches of near dissonance, as if he is warping the song's melody without disfiguring it. 
-Anne Hollister, TheIndieSource.com - full review
What is the ShamaniSonic Oydssey? 
In addition to these prayerformances, CelestiOwl shares at yoga studios, healing centers, and festivals with the ShamaniSonic Odyssey. In this deep listening circle, participants are invited to lay down with their heads in the center of a circle and feel the vibration of the live classical guitar, stomping, and bells, followed by ambient electric guitar to soothe, integrate, and sail into the sea. Be transfixed. And be transformed by CelestiOwl's transcendent quest into the heart of the cosmos on a vehicle made of star-light and unleashed passion.
CelestiOwl is available for wellness retreats, private house concerts, and festivals.
Reach out on the Contact form below and let's collaborate!
***
"

I have never been so moved in my breath and spirit by guitar in my life. Thank you infinitely for this journey." - Andy - London, England
"

"My soul feels lighter, I released something stuck inside of me I could not put words to. I could see my future as well, more freed and more empowered. Thank you." - Marek, Poland
"

I was crying after only a minute. So much emotion. So much passion. I was able to heal some painful memory stuck deep inside of me. Words can't express my gratitude" - Jasmine - Cape Town, South Africa
ShamaniSonic Breathwork Odyssey, Madeira - Nomad Island Fest
ShamaniSonic Breathwork Odyssey, Madeira and Cape Town 2022